Radio Remedy, so nennen die befreundeten Musiker und Sänger Peter Müller, Roland Enders und Richard Bellinghausen (ja, immer dieselben alten Säcke unter wechselnden Namen) ihr Studioprojekt, für das sie seit Ende 2020 gemeinsam verfasste und arrangierte Songs aufnehmen.
Das englische remedy bedeutet soviel wie 'Heilmittel'; damit ist die Vorstellung verknüpft, dass von diesen Liedern eine positive Wirkung ausgehen kann.
Stilistisch könnte man sie unter 'Pop auf Folkbasis' einordnen. Zu den handgespielten akustischen Instrumenten treten allerhand virtuelle hinzu, also hochwertig gesamplete und per Keyboard eingespielte. Die Aufnahmen, die Roland in seinem Slander Drone Studio produziert, werden dann durch Beiträge von Gastsolisten noch gezielt aufgewertet. Am 30.07.23 erschien zeitgleich mit ihrer Vorstellung in der Kulturkapelle eine erste CD, Encased In Amber, eine zweite ist geplant.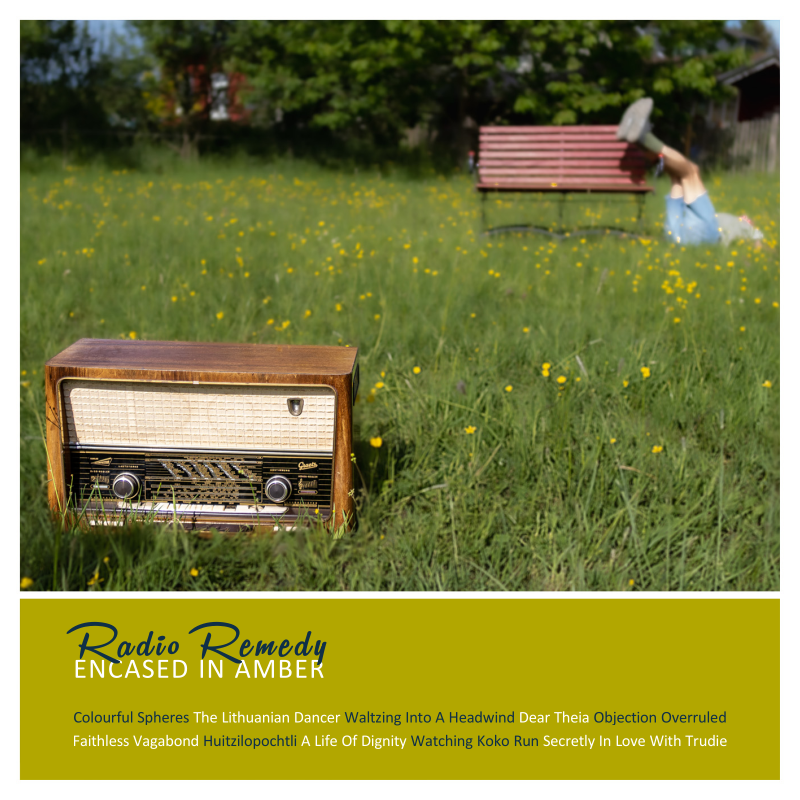 Radio Remedy sind:
Peter Müller
Roland Enders
Richard Bellinghausen
Gäste:
Lilo Gerdes: Klarinette
Sonja Lichtenberg: Gesang
Pamela Schneider-Ketterle: Gesang
Hiltrud Triphaus: Gesang
Alle Stücke von Peter/Roland/Richard
Arrangements ebenso, mit Beiträgen von Hiltrud
Aufnahme, Mix & Master: Roland
Artwork des Albums: Richard
mit Fotos von Bernd Giershausen
Download
Komplettes Album (MP3) mit Booklet und Übersetzungen
Zum Anhören:
Achtung: Wenn Ihr diese Seite zum ersten Mal besucht oder den Browser-Cache geleert habt, kann es etwas dauern, bis die Songs abgespielt werden.
Colourful Spheres (II)
The Lithuanian Dancer
Waltzing Into A Headwind
Dear Theia
Objection Overruled
Faithless Vagabond
Huitzilopochtli
A Life Of Dignity
Watching Koko Run
Colourful Spheres (I)
Bonustrack:
Secretly In Love With Trudie
Mitte der 80er Jahre löste sich die regional bekannte Folkrock-Band Aigues Vives nach vielen Live-Gigs, einer LP und einer für die zweite LP vorproduzierten Compact-Cassette auf. Drei ihrer Mitglieder, Karl Beck (Gesang, Bass, Gitarre), Roland Enders (Gesang, Gitarren, Keyboards, Bass) und Richard Bellinghausen (Gesang, Drums, Percussion), gründeten daraufhin das Studioprojekt Casino Babel, um eine Cassette mit neu entstandenen Songs aufzunehmen. Diesem ersten Album folgten zunächst fünf weitere. Casino Babel lotete dabei die kreativen Möglichkeiten von Folk über Pop bis Rock aus und arbeitete mit einigen Gastmusikern zusammen. Zu Beck, Enders und Bellinghausen kamen zeitweise noch Malte Burchard (Technik) und Karin Thiermann (Gesang) als feste Mitglieder hinzu.
Heutzutage ist es mit moderner Computertechnik so einfach, gut klingende Songs im Alleingang zu produzieren. In den Jahren '85 bis '97, in denen Casino Babel als Studioprojekt agierte, war es eine Herausforderung. Die technischen Mittel waren mit 8-Spur-Recorder, Atari-Computer, Federhall, 8-Bit-Drumbox und einigen billigen Mikrofonen sehr limitiert. Dennoch gelang es, einen für die damaligen Verhältnisse recht guten Sound zu kreieren.
Im Jahr 2010 beschloss die Band nach 13jähriger Pause, wieder neue Alben aufzunehmen. Die Bandgründer Beck, Enders und Bellinghausen wurden durch zwei weitere Mitglieder, Peter Müller und Achim Susbauer, unterstützt.
Das letzte Album von Casino Babel erschien dann 2017.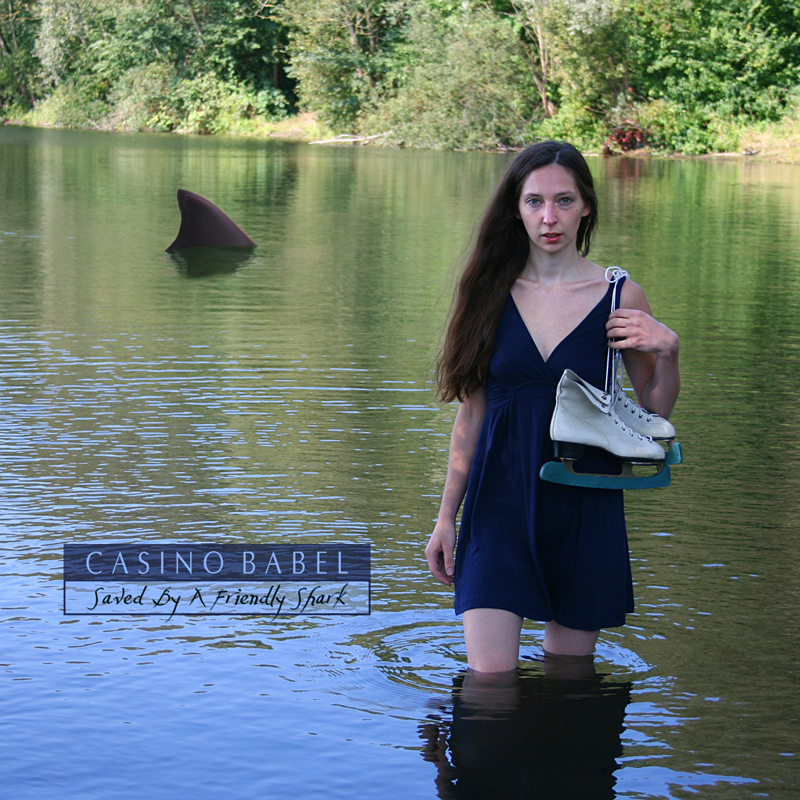 Casino Babel sind:
Achim Susbauer
Karl Beck
Richard Bellinghausen
Roland Enders
Peter Müller
Gastmusiker:
Wilfried Bellinghausen
Franz Kremer
Sonja Lichtenberg
Anne Schiranski
Michael Tamme
Hiltrud Triphaus
Edgar Zens
Artwork, Bilder:
Karin Kämmerer
Richard Bellinghausen
Elisabeth Enders (Banner)
Cover-Model:
Koordination und Gestaltung:
Aufnahme, Bearbeitung, Mix & Master:
Zum Anhören:
Rainwater Lake
One-Way Ticket To Mars
The Sea Is Coming Back To Me
Longing For The Night
Milky Way And Andromeda
Françoise Dorléac
I'll Go Like The Wind
Let Some Happiness Shine
Surrounded By Infinity
Catching A Thief
The Princess Of Spain
Behind A Hedge